Tonnes of unwanted fabrics end up in landfills every year, seriously impacting the environment. However, if such discarded clothes are properly recycled, they could become elegant accessories like handbags, clutches or purses.
Hoàng Huệ, a young businesswoman from Hà Nội, is transforming unwanted clothing into fashionable pieces. The idea for AmReborn, a project recycling thrown-away clothes, came to Huệ when she was rearranging her wardrobe and realised that like many others, she was keeping hold of a large amount of old and unused clothes. "While most of the old clothes will be discarded, some others will be preserved as keepsakes but will be wasted. At that time, I thought, why not give such clothes a second life while still being able to preserve their sentimental value in other forms like handbags," she said.
Huệ also embellishes bags and accessories with stones. The first item she made from discarded textiles was a set of products including a bag, a purse, a backpack and a necklace. They were recycled from an old blanket with vintage patterns that used to be popular during the subsidy period, a gift that Huệ's mother gave her years ago as a reminder of the old days. She has always treasured and preserved it carefully in her wardrobe.
"Instead of keeping the blanket in the wardrobe unused for years, I thought about making it into meaningful gifts for my mother on International Women's Day, March 8, this year," Huệ said. After receiving the set of gifts Huệ made from the old blanket, her mother was so pleased and moved that she encouraged her daughter to create more items. At that time, the 32-year-old recognised that it would be a path enabling her to pursue her childhood hobby of crafting items while contributing to environmental protection by recycling discarded materials.
"From a business perspective, I also find that people tend to come back to nature, become interested in handmade items and tighten their budget due to the impacts of the COVID-19 pandemic. Therefore, I hope to create meaningful and reasonably priced products so that everyone can afford them during such financially difficult times," Huệ added.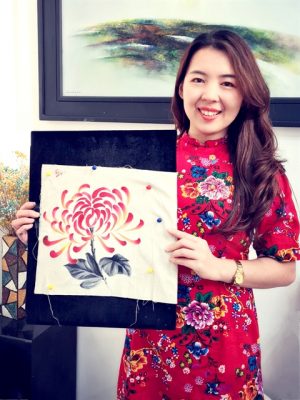 The initiator of AmReborn revealed that she did not encounter any significant difficulties since it launched, as it was born three years after she started AmLily, her business of handmade, stone-embellished bags and accessories."I have accumulated sufficient experience in making artisanal items. The difficulty I have to deal with is studying designs that are trendy and fashionable.
"Although they are made from recycled materials, I have always remained loyal to the philosophy that every product for women must have high aesthetic and practical elements so that they could confidently take them to any events. Therefore, some customers have commented that my handbags made from old textiles look even more beautiful and glamorous than new ones," she said.
AmReborn was officially launched on March 8 with a programme of exchanging old bags for new, spreading information about the project to wider customers, and collecting materials. Within a month, 50 handbags made from thrown-away textiles were made and given away. "We accept old fabrics of all kinds, from jeans, shirts, skirts to pants. Then they will be cleaned and classified according to the designs. "According to Huệ, each handbag includes two main parts – the outer cover is made from old fabrics while its frame is also made of recycled but durable plastic. After sewing, the maker could beautify the product by painting, embroidering or attaching stones or crystals on it according to the customers' demands. "An ordinary bag might take nearly three hours to finish but more sophisticated ones that need stone embellishment or decorations could take at least a day. The time to finish a product also depends on the texture of the material. "AmReborn does not set any criteria for the material. Myself and other members of the project accept all kinds of textiles as we appreciate all customers' keepsakes, including difficult materials like wool or fur. We would instead consider such materials a challenge for our creativity," Huệ said.
SENTIMENTAL: Gifts recycled from an old blanket that Huệ's mother gave her, including a handbag, a backpack, a purse and a necklace.
The clients of the project are also varied, from people with limited budgets and a habit of reusing old things to save money to those with high incomes but looking for unique, environmentally-friendly products and particularly, those with a desire to turn precious keepsakes into items they can take anywhere.
"Each piece of old clothing sent to AmReborn has its own story. I remember that a woman messaged me not long ago, telling me that she had a fur coat from her father who died 10 years earlier. She had always kept it as a treasure and now wanted me to recycle it into a bag that she could carry around.
"Or another story was a young man who wanted to surprise his girlfriend on her birthday. He secretly 'stole' one of her old unused dresses and asked me for help. From the dress, I made a handbag, a headband and earrings. He then told me that her girlfriend was surprised and overjoyed on her birthday.
"Therefore, I think that what I'm doing, besides earning money, is also sharing love with everyone," Huệ said. Furthermore, part of the funds raised from handmade items will go to Huệ's Am Thank Fund, that aims to support handicapped and disadvantaged people.At present, the AmReborn project is creating jobs for around 10 people in special circumstances, like people from the LGBT community or students in need. The young businesswoman hopes to spread more knowledge about recycling by teaching others to make handmade products themselves via YouTube videos or workshops.
Seeking new designs and more environmentally-friendly materials for the embellishment of her creations are also on her to-do list. "Another goal of mine is introducing AmReborn products and the meaning of the project to the world," she added. VNS